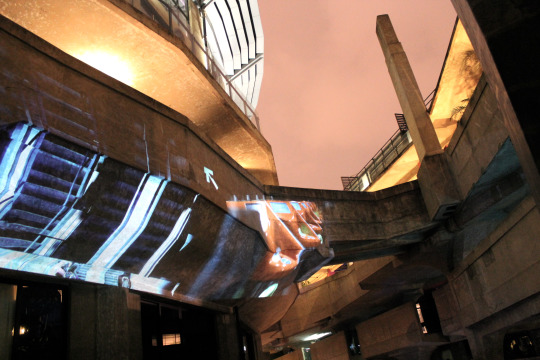 Shanghai, China. Curators Michelle Proksell with Tina Blakeney and Margot Hamer presented BYOB Shanghai: BEGIN / END / LOOP on Saturday, November 8th, 2014 at the historic building 1933老场坊, situated in Hongkou District of the North Bund.
Opened in 1933, the building was originally a slaughterhouse conceived by noted British architect Balfours and represents an extraordinary reflection on the vision and ambition of Old Shanghai. Incorporating both Chinese and Western elements of design it has an open-air concept with spiral staircases and various angles which created a mysterious blank canvas for moving image, light and sound to infiltrate.
Inside a square exterior, 1933 老场坊 has a circular inner structure whose repetitive nature instills a metaphorical feeling of time in motion, beginning and ending, again and again. This feeling sparked the inspiration for the curatorial theme of BEGIN/END/LOOP, which also references looping in experimental film, video and sound mediums.
For the exhibition, BYOB Shanghai's Chinese and international artists projected imagery and content onto the building's remarkable architecture through video, film, lasers, lighting and installation. In addition, the exhibition was accompanied by a series of curated sound and music performances.