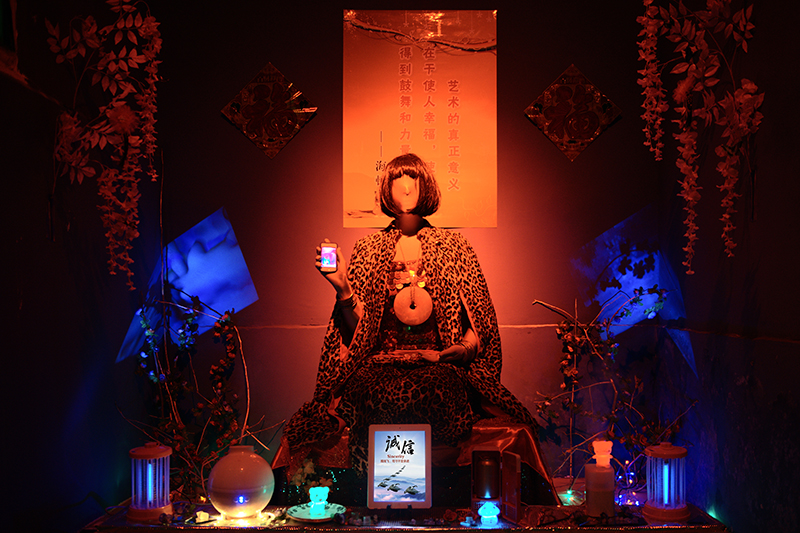 On November 23rd 2014, Michelle Proksell and Ophelia S. Chan debuted their performance piece DongXi DongXi at a contemporary art event in an abandoned hutong space in Beijing. The character of DongXi DongXi, played by Michelle, was part of a 'Living Shrine' for an installation called INSIDE/OUT by curatorial collective TRIA PRIMA.
DongXi DongXi has a double meaning in Chinese and translates into "East West East West" or "Something Something".
The character is meant to blur the lines of the East and West by becoming a "faceless blank canvas" exploring the ever-present multi-cross-trans-cultural world we are growing into.  Shrines are a symbolic and intimate space across many cultures and are often found in the homes of everyday people.  By creating a Living Shrine in an abandoned home for DongXi DongXi to dwell in during this performance, the audience was encouraged to reflect not only on the present-day fusion of cultures,  (of religious and pop-culture icons, in forms of symbolic elements and ornaments found in our homes), but also on the ways in which technology plays a part in how we see and represent ourselves today.
DongXi DongXi's Living Shrine was found at the 'end of the journey' (the very last room) of this multi-room hutong space  in the centre of Beijing and was purposely designed this way to bring the audience to an especially surreal and humorous landscape.
DongXi DongXi sat on a lifted platform in the front of the room illuminated by bug zappers, Christmas lights, projections, humidifiers, motivational posters looping on an iPad, in a set adorned with plastic flowers, glowing figures, crystals, broken glass and tree branches.  In the left hand of DongXi DongXi was held a fresh piece of dragon fruit, in the right hand an iPod touch with the selfie mode turned on facing the audience who walked in – every so often DongXi DongXi turning the selfie on itself.  Instead of a mirror, that this absurd 'spiritual character' would have held in another day and age to represent how we see ourselves reflectively, DongXi DongXi turned the camera on the audience instead, giving them the ability to capture themselves in a kind of 'spiritual awakening' in the most natural way possible to them – the selfie.
Does 'self reflection' not begin with seeing oneself first?  DongXi DongXi and the selfie mode was meant to allow for this – humorously and absurdly reflecting on the ways we all now choose to represent ourselves more often than not, in a digital format to be shared online.  We do not stare at ourselves introspectively in mirrors to find 'greater meanings', instead we stare at ourselves in devices allowing to capture us in the way we want them to, with the control of our own fingers.
Our relationship to the selfie mode is perhaps a perfect representation of the new-wave-future-cross-trans-cultural-internet-post-digital world we live in now,  the selfie of our hearts, souls and minds.