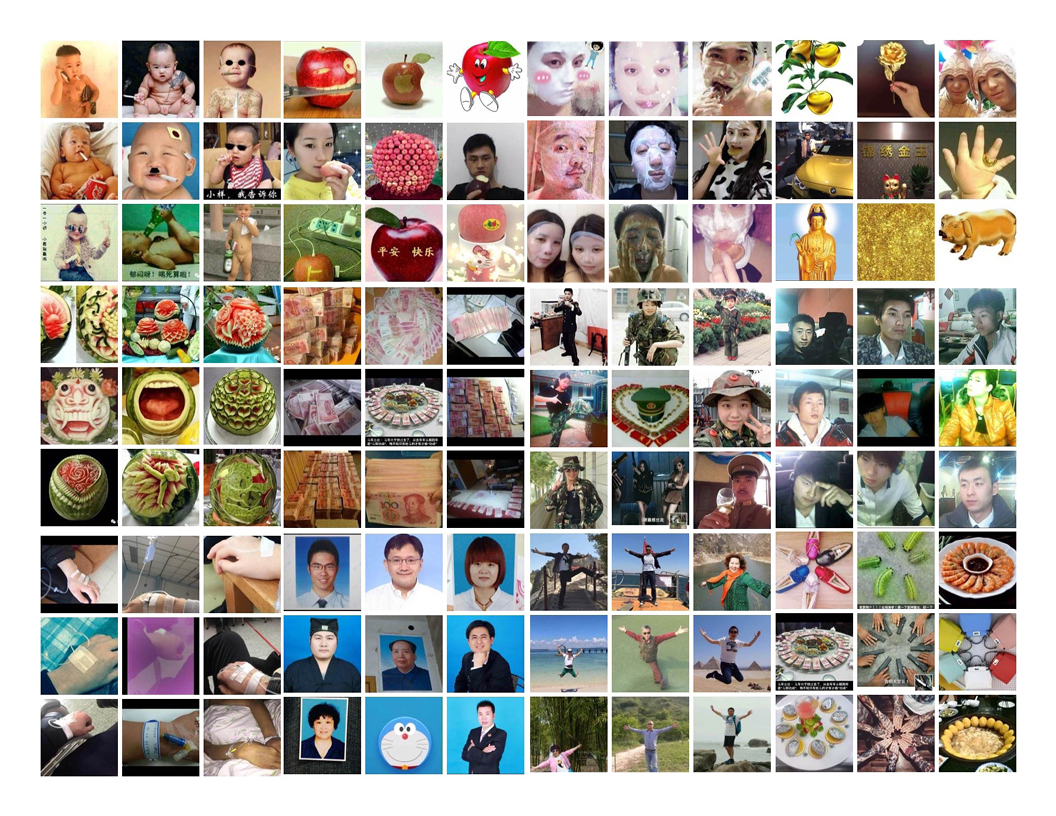 The Chinternet archive is a small database of over 40,000 images (and growing) which have been hand picked and collected by Michelle Proksell from WeChat (Weixin 微信) since April 2014. The images were collected through a function within the app called "People Nearby", which uses the device's location-based services to collect content from people in a nearby 1,000 meter radius. Images were collected from public WeChat profiles from various cities in China, such as Beijing, Shanghai, Guilin, Yangshuo, Xi'an, Shenzhen and Hong Kong, as well as, countries around the world including Taiwan, Korea, Malaysia, America, Germany, Italy, Switzerland, Holland and Belgium. Michelle collects anywhere from 10 to 100 pieces of content from WeChat daily for this archive.
The archive consists of images, .gifs and videos related to memes, trends, digital graphics, fashion, vernacular photography, selfies, texts and other artifacts of contemporary Chinese online culture. Images in the archive represent many facets of Contemporary China today, such as demographics, home and work environments, politics and forms of nationalism, digital aesthetics, e-commerce, selfie culture, online humor, products of China, uses of technology, aesthetics of Chinese photo editing apps and the ongoing digitization of real life in China.
The act of collecting this content, often through screenshots, is closer to documentary photography or digital anthropology. The archive has taken on many forms since it's inception. It has been used for academic publications, ongoing research, online performance, photo collages and .gif animations, as well as being exhibited in multiple installations around the world.